There are many paid software's are available for TDS Return preparing. However NDSL has provided their own Software which is very simple & easy to use. We can use the same for TDS Return Filing. If Assessee has done online registration on Income tax site then entire process become online. Advantage is that we can file the Return online from Anywhere at any time with free of Cost. Check the Attachment explaining the Procedure.
STEP 01 : CONFIRMING THE CHALLAN STATUS
https://tin.tin.nsdl.com/oltas/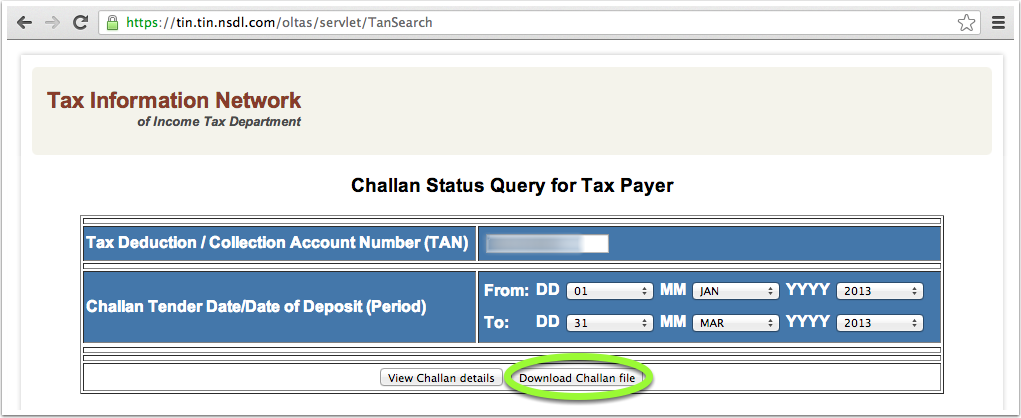 Click on TAN BASED View.
Nsdl Csi File Download Software
E-Tds Return File How to Download Tds Challan (CSI) from NSDL by The Accounts.Please Don't Forget to Subscribe My Channel.कृपया हमारे चैनल को Subscr. Challan Status Enquiry for Banks. A) Collecting Bank Branch: On providing the branch scroll date and the major head code - description, the tax collecting branch can access the total amount and total number of challans for each major head code. Further, the collecting branch can view following details: Nodal Branch Scroll Number.
ENTER THE DETAILS AS BELOW[ Date Range 2/3 days before or after the challan date ]
Now First View Challan details
Enter challan Amount then Click on Confirm Amo unt. Result will be displayed as Amount Matched.
Now Download Challan File which will be used for Return Filing.
Step 02 : Downloading the NSDL RPU
https://www.tin-nsdl.com/services/etds -etcs/etds-rpu.html
Click to continue
FILL THE DATA IN MADATORY FIELDS
Here 1st Page is FORM where Basic Details need to be entered as below.
In Case Revised return Receipt Number of Original Return will be Compulsory
Receipt No of Earlier Return is RRR Number
Now Go to CHALLAN
Number of Row will be as per Deductee Entries to be adjusted against Challan.
Example : There are 2 Challans.
TDS of one Deductee / Employee / One Pan Entry paid against Challan – 1
TDS of Three Deductee / Employee / Pan Entry paid against Challan – 2
Then Insert Row will be as Challan – 1 = 1 Row and Challan -2 = 3 Rows.
In case of Huge data Summary can be prepared i n Excel then same can be used for Copy – Paste into Utility.
Formatting Date Cell [ DD-MM-YYYY ], Number Cells as General Format with 2 Digits Ex. 10000.00
Rpu File Download
Now Go back to Form & Save the Draft File where CSI file (Step 1) Downloaded & Saved.
Introduction of CAPTCHA under Challan Status Inquiry (CSI)
Nsdl Csi File Download
Challan Status Enquiry provision at TIN-NSDL website in "TAN based view" (https://tin.tin.nsdl.com/oltas/index.html) used for verifying Challans at OLTAS and downloading the .CSI file during the quarterly TDS/TCS Statements, is now being introduced with a CAPTCHA as a mandatory value to enter. Due to this change in the TIN-NSDL website the automation given in SaralTDS software viz Challan Verification, OLTAS Challan List and automated .CSI file download during eReturn will not be functioning for a while.
Nsdl Csi File Download Free
We are putting our best efforts to incorporate the current changes in the TIN-NSDL website and make those features available soon for you to ease your TDS Management using SaralTDS. Please expect us to make these changes available and release an update within 10 day's time or even earlier.
Nsdl Csi File Download Free
Till then if you wish to verify challans in SaralTDS, please do make use of 'Bulk Challan Status' provision given in TRACES menu in SaralTDS, and .CSI files can be downloaded manually by clicking above link. For any assistance please feel free to call our support team at 1860-425-5570, we assure you the best of our services.